The number of associated entities with the Global Compact Network Spain has increased 8% in the last year, from 474 in 2016 to 510 in 2017. A rise that maintains the positive trend since the creation of the Local Network in Spain, and that confirms the importance that the private sector of our country gives to the activity of the Local Network and to the promotion of the Sustainable Development Goals (SDG).
This increase has occurred thanks to business entities, which represent 85% of the signatories (31% are large companies and 54% are SMEs). The membership to the Global Compact of this segment has grown by 11%. It should be noted that SMEs are the leaders in this concern, experiencing the highest increase: 13% compared to 2016. On the other side of the scale are non-business organizations – the 15% of the composition of the Local Network-, they have decreased by 5%.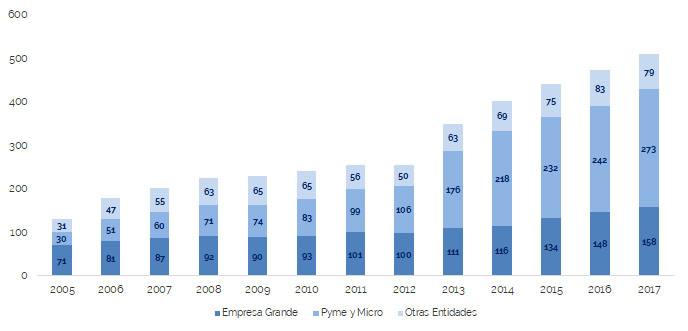 Ángel Pes, president of GC Local Network Spain, is very satisfied with the growth in the number of members: «This has been the year in which we have exceeded 500 members. This encourages us even more to work with our partners in the achievement of the Sustainable Development Goals (SDG) for the year 2030. To achieve this, we will continue with our awareness labour, our training offer and promoting collaborative work«.
Another of the great milestones experienced in 2017 is the good reception that the Principles of the Global Compact have among the companies of the IBEX 35 index. In fact, in 2017 one more company, Aena, has joined ourinitiative as a member. Thus, the number of members and signatories of the Spanish Local Network among the companies of this index amounts to 26, to which we must add another 5 that are only signatories. Only 4 IBEX 35 companies are not part of the Global Compact. On the other hand, it should be remembered that 74% of them already include an express commitment to the SDGs in their sustainability reports, while 57% have aligned their core business with these goals.
Signatories grow around 4%
Regarding the number of signatories, the year 2017 has increase 93 organizations in our country, the 4%. Among them, business entities have increased by 3%. Non-business entities have gone from 226 to 239, experiencing a growth of 6%, compared to 2016.